ADAS Mobile DVR with DSM function, 8 Channels, 2 SD cards & 1 HDD (Model: FT VMR-SP5 series)
Main Features:
Integrated ADAS(Advanced driver assistant system) + DSM(Driver State Monitoring
Integrated mass storage, keep on recording the driving and main information without
pluggable memory.
H.264 Compression mode.
Support Max 8CH 720P HD monitoring/record/playback (8CH 720P AHD, 8CH DI/4CH
1080P AHD input optional).
2CH Output (1CH CVBS front panel, 1CH CVBS rear panel).
Support 5CH audio input(include 1CH MIC intercom), 3CH audio output( include 1CH
internal Speaker, Power output 1W/8Ω).
Front window display: 132*64 dot matrix, dot pitch:0.39*0.39., 4 lines information displayed
Build-in POS reader, support touching IC card to record driver's login/logout status.
Firmtop Special Vehicle pre-distributed memory file system technology solves the
problem of file fragmentation caused by repeated reading, solves the memory file
system crash data loss, memory loss and file garbled phenomenon, to ensure stable
and complete recording datas.
8V-36V power input, protect reverse connection, over voltage and over current, and
support 12V@1A and 5V@1A power output to peripheral devices. Ultra low power
design;
Support UPS technology, the device continues working 8-11S under the accident of
Power failure, save the key data after power failure, to protect all data not lose and the
disk dis damaged and the whole event process.
Build in 3.7V/600mah back up battery (optional 1200mah), support GPS Uploading with
power failure.
Hard Drive + SD Card storage ( Max 2TB 2.5inch HDD, dual SD cards ), Anti-vibration and
dusty.
2 USB Ports, for data backup, and device upgrading.
10ch alarm input (2CH analogy +8CH IO input), 2CH alarm output.
1CH CAN, 4CH RS232(3CH for extension device), 1CH RS485.
Optional HDD heating function support working in a cold environment.
Optional GPS/BD/G-SENSOR.
Real time video monitoring with 3G/4G,download data automatically.
Supporting the ministry of communications agreement, remote Configuration/DVR.
management.
Support Build-in TTS Voice Function, Public Bus-stop system (Extensible).
Support voice broadcast, intercom and text dispatching functions, expandable fuel sensor, temperature sensor, ID card reader, LED advertising.
Support mobile phone remote monitoring, and 3G call function.
OTA Device auto upgrade newest version, convenient maintain
Mobile APP available.
Reliable Aviation connectors, Competitive price, Stable quality.
Smooth, intuitive, perfect The system.
Powerful client platform, providing real-time monitoring, intercom, playback, video, highdefinition screen shots and ect.

Product Features:
HIS solution, H.264 compression mode, multi-stream recording. Max support 8CH
720P HD video surveillance/video/playback (8CH 720P real-time AHD HD input/8CH
D1 analog standard definition input/4 CH 1080P HD real-time input), providing highdefinition
video effects.
Real-time high-definition video recording, 1080P/720P/D1/HD1/CIF recording optional, frame
rate quality adjustable.
Professional vehicle power supply design, 8-36V DC wide voltage input; overload/under voltage/short
circuit/reverse connection and other protection circuits, suitable for all kinds of vehicles.
Provide DC12V and DC5V power output, which can supply constant voltage for multiple peripheral devices, such as cameras and small screens.
Hard disk+SD Card record data (max support 2.5" 2T hard disk, max support 2 large-capacity SD card),
can completely resist the data damage caused by vibration dust on the car, so that the product can adapt to
the bad road conditions that most products can not adapt.
Watchdog abnormal restart function protection, can protect the machine and video better.
Exclusive pre-allocated vehicle specific file system technology to solve the problem of file fragmentation
caused by repeated erasing and writing to ensure data integrity.
ACC delay recording function (Max support 24 hours); built-in 3.7V/600mAh (can upgrade to 1200mAh)
backup battery. Support GPS upload after vehicle power off.
Power failure protection function under accident: Using special UPS technology, the machine can still work
normally for 8-11 seconds under the complete cut off of external power supply (including backup battery) to
ensure the integrity of the video file and facilitate accident inquiry.
Automatic video recording, manual recording, alarm recording and other video recording methods to
meet different needs.
Display vehicle information such as vehicle driving status, license plate, line, speeding, etc. Easy management.
Support GPS/BD, 3G/4G module expansion (optional), expandable WIFI.
Super network function, through IE configuration menu, support mobile phone SMS
configuration parameters and obtain device information.
Remote support audio and video monitoring, two-way voice intercom, remote PTZ control,
manual alarm, speeding alarm, crossing and line deviation alarm.
8CH IO alarm input (Doors, lights, steering, braking, reversing, all types can be configured), 2-way analog
alarm input, 2CH alarm output, support sound and light alarm linkage, cut off oil and power.
Support alarm input local automatic camera function, can save 2000 pictures at least.
Built-in thermal printer, can also expand external thermal printer.
Integrated ADAS (supports lane departure detection and warning, front vehicle collision detection
and early warning). Advanced driver assistant system.
Integrated DSM (support driver face recognition; blinking/sleeping/yawning and other fatigue driving detection
and warning; attention distraction detection and warning; diet detection and warning; call detection and warning;
smoking detection and warning; seat belt detection and alarm) Dangerous driving behavior early warning technology.
Support TTS voice function, can expand the bus station report function.
Support the Ministry of Communications Ministry standard agreement, can expand the PTZ control,
Oil sensor, LED advertising screen, etc.
Support mobile phone remote monitoring and support mobile phone call function.
Batch functions can be customized according to customer requirements.
Operating temperature -30℃~ +70℃ (including -20℃~ +70℃when the printer and battery).
Software upgrade via SD card/OTA remote automatic upgrade, using partition backup technology
to upgrade without crashing.
Dimensions: 180mm*60mm*170mm.
Technical Specifications: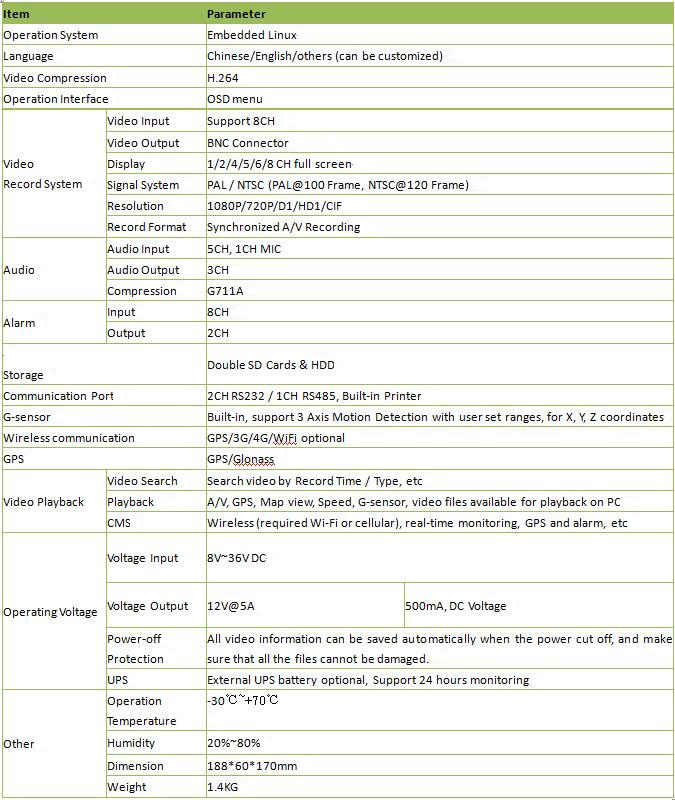 Clearer and more pictures of FT VMR-SP5 serial products: